Board games have always been my favorite from childhood. That's how I started introducing board games to my kid at very young age. There are lots of board games available in market for kids.
There are different games that focuses on different aspects for fine motor skills to social interaction. But best of them all is unlimited fun we get and the bonding time we get as FAMILY.
Overall all the board games have benefits like:
Screen free entertainment
Helps to develop attention span
Improves concentration
Enhances matching and memory skills
Develops fine motor skills
Builds self-confidence.
Provides hours of interactive learning fun
Teaches taking turns
Expands vocabulary
Promotes hand eye coordination
Establishes observation skills
Develops creativity and imagination
Teaches lots of patience
Learning about winning and losing
Promotes attention to details
FEW OF THE BOARD GAMES THAT WE HAVE PLAYED OVER AND OVER AGAIN AND LOVED ARE LISTED BELOW:
1. RIVERS, ROADS AND RAILS BY RAVENSBURGER
Brilliant transportation themed matching game to build a world of rivers, roads and rails! Exciting challenging game of linking together an intricate network of transportation.
Recommended age- 5+ years .There are actually 3 ways to play the game- The original game can be played by 40 months+ kids (1-8 player game which lasts from 30-45 minutes) and the other two variations by 5+.
How to play the game?
Game comes with 140 scenery cards..
The Original Version:
Be the first to use up all cards while building a continuous network of rivers, roads and rails.
We had to slightly modified the game rules mentioned with the pack as it was always ending up into a closed network.
Each player picks up 10 cards. Align one card in the middle of playing area. Start your network.
A river must be matched with river, road to road, rail to rail so that an imaginary boat, car or train could travel from card to card following a logical path.
Each time you arrange a card from your deck take an extra card from the main deck and always make sure you have 10 cards with you. If you can't build a network take a card from the main deck and on each of your turn keep on taking card until you find one to go with the network
The one who uses up all their cards or has fewest cards at the end will win.
Benefits of the game:
Apart from the general benefits of board games this particular game also
Helps in planning ahead
Great for quiet time play( can be played like a puzzle interconnecting each other) and pretend playing
Teaches co-operative play.
As an extension of play kids learn to communicate more on their own experience to bring the game to life.
Great game to learn about the surroundings in everyday life.
Teaches kids in forming pathways
Develops strategic gaming techniques
 Requires lots of space to play- can't play over a table. Also Kids who don't like solving puzzles may get bored easily because it takes up lot of time and patience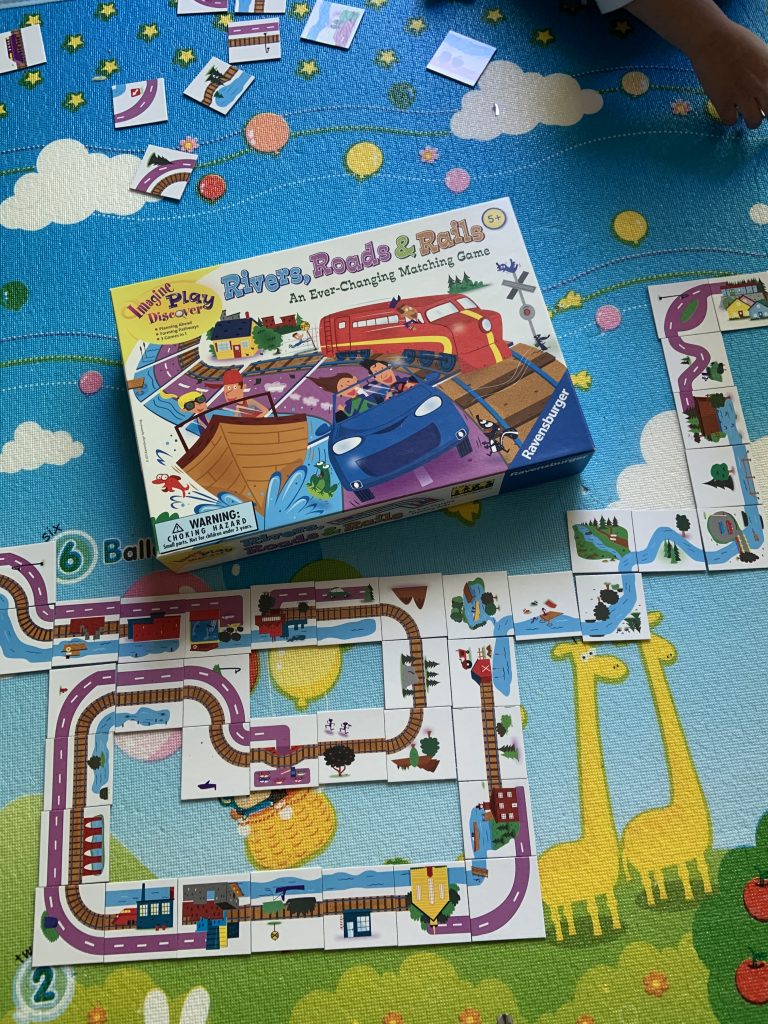 2. ZINGO! BINGO WITH A ZING! BY THINKFUN
Zingo is a fun interactive matching game that adds a twist to classic game of Bingo.
Recommended age- 4+ years.. But also can be used for kids younger to do matching and learn vocabulary.
2-6 player game.
How to play the game?
Game comes with 72 double sided Zingo tiles, 6 two sided Zingo cards and a Zinger.
One who covers all the spaces on your Zingo card with matching tiles will be the winner.
There are two different sides in the card- Green side is less competitive and Red side is more competitive.
Game options:
1. Match the Zingo tiles with the Zingo cards (for kids below 3+)
2. The Zinger is so fun to operate that Suhas loves loading and reloading cards into the Zinger which itself is like a game for him.
3. Mini Zingo- First player who matches 3 images in a row- diagonally, up, down or across.
4. Zany Zingo- Use any pattern to complete the Zingo game.
A) Picture frame- Match tiles on the card except for the Centre.
B) X marks the spot- Match tiles in the shape of X
C) Four corners- Match tiles only in 4 corners of the card.
D) Z is for Zingo- Match tiles in the shape of Z.
5. Multi card Zingo- Try playing with multiple cards at a time. Use a red and a green card together for more competition.
6. Can be used as a word play only – Open the zinger only until the words are written and then match them with same word or pic on the card.
7. Tiles Can be used for phonics or word building. Can learn short vowel sounds and can also understand how letters combine to form words.
As based on kids age and skills move up to the next game option.
Benefits of the game:
Apart from the general benefits of board games this particular game also
Helps in image and word recognition
Learning about letter sound relationships
Helps in early reading and Phonics.    
3. CANDY LAND BY HASBRO
Classic board game with adventures and sweet surprises
Recommended age- 3- 99 years .2-4 player game. I recommend it playing whenever kids can identify colors.
How to play the game?
Your aim is to reach King Kandys castle . first..Pick a ginger bread man of your choice and place it at the 'Start'. Shuffle the cards and move the ginger bread man based on what color appears in the card each time you pick it from the deck..Kids can travel through a rainbow path in Peppermint forest, Peanut house, licorice lagoon and frosted palace to reach the castle..There are some shortcuts and some squares that you have to skip. Complete all these adventures and reach the castle first..Other ways to play:
For younger players- If you draw a picture space that's behind you on the path, instead of moving backward draw again!
For older players- Draw two cards on each turn then choose which one you want to play.
We also play it other way around- after completing the game by reaching castle we play again from backwards to down to see who reaches first from castle to start point.
Benefits of the game:
Apart from the general benefits of board games this particular game also
Promotes color recognition
Teaches kids to take turns, and to prepare for twists.
Super cute interesting and engaging game for kids and also adults.
4. RICHARD SCARRY'S BUSY TOWN EYE FOUND IT GAME BY I CAN DO THAT GAMES!
Drive across the Busytown towards the ferry that will take you to Picnic island. On your way you will help Goldbug find hidden objects all around town. The more you find the faster you move! Will you make it to Picnic island before Pig Will and Pig Won't eat all the food?
Recommended age- 3+ years.
How to play the game?
Each player chooses a mover. Place the 6 food tiles on Picnic island. Place the ferry boat at the end of the road. Spin the spinner and follow what's said in that. If you spin:
MOVE- Advance your lover to the spaces indicated.
PIGS EAT- Take away food from Picnic island and spin again.
GOLDBUG- Turn over the card and find the objects shown which is hidden all over the board by placing a magnifying glass.
All the player's movers must be on ferry before it can leave for Picnic island. If the ferry arrives at the island before pig eats all the food YOU ALL WIN!!. 
We love the cute illustrations and brilliant game strategy. We love Richard Scarry books and this is perfect game to go with the books
5. MATCH IT! PICTURE WORD BINGO BY LEARNING JOURNEY
Fun word matching game that comes with 4 colorful game boards and 36 picture cards. Both have words written on back of the board and card.
Recommended age- 3+ years.. But also can be used for kids below 3 to learn vocabulary.2-4 player game.
How to play the game?
Begin each game by having each player select a playing board. Shuffle the playing cards and place the pile in the middle of the playing area. Select a game option. Each player will take turns selecting a playing card from the pile. If the card matches a picture on their board place it on the board , if not, place the card on the discard pile. Play moves to the next player. First player to fill their board is the Winner.
Game options:
Match the picture card to the picture on the playing board. (2-3 years)
Match the word on the back of the picture card to the picture (with its word beneath) on the playing board.
Match the word only on the back of the picture card to the word on the back of playing board
Match the picture only cards to the words on the back of the playing board
Bingo- An adult or older child will select the playing cards & read them aloud. As the card is read the player with the matching pic on their board will claim it.
As based on kids age and skills move up to the next game option. the above game rules are as recommended by the instructions in the box.
6. The picture and word cards can also be used to match letters/sounds to words/pictures.
6. OUTFOXED GAME BY GAMEWRIGHT
Brilliantly designed co-operative game for kids and adults too..
4 + years.2-4 player game. Can be played as a single player too..Game time- 15-20 minutes.
How to play the game?.
A co-operative whodunit game where kids have to find out thief who stole the pot pie before he/she escapes into a fox hole..Comes with 16 suspect and thief cards, a decoder, some clue cards that fits into decoder, 3 dices, a fox figurine and detective hats..The thief card is chosen and kept as secret on the decoder. Lil detective kids has to collect clues and reveal suspects cards and find out the thief that has stolen the pot pie. Clues are some of the accessories your thief will be having in their body or carrying along with them. You have to find out the thief that matches the clues . Ex your thief might be the ones who wears a necklace and carries a bag but not the one who wears a spectacles or has an umbrella. Each time you have to roll a dice to reveal the suspect or find clues. Each time you get a clue your suspect list keeps on decreasing until you end up with one or two suspect cards out of which one is actually guilty..
The best thing about the game is the coolest plastic like case that works as a decoder in finding out suspects based on clues. You have to open the door like structure in the side to reveal whether the suspect is carrying the object in the clue..
Game is different every time you play as each time you get different thief and different clues.
Benefits of the game
Apart from the general benefits of board games this particular game also
Improves critical thinking skills like deduction.
Helps in logical thinking
Builds suspense and mystery
Encourages teamwork
Helps in decision making.
Helps in spatial awareness
OTHER GAMES WE HAVE PLAYED AND LOVED
About Author : 
Soumya is a mom to two adorable humans who is trying her best to raise them with books and screen free activities. 
Although Covid has been a challenging time and have relaxed many other things in life books and games have been a life savior for her to keep her son engaged at home. 
Her page @ourreadingdiaries is all about their love for books and games/toys for kids. She also shares her love for food and travel in her page @ourcookingandtraveldiaries