I am sharing about two books written & illustrated by 9 year old – Adithya Iyer @adithya_comicartist
( he has written four books until now – Feb 2021). I am extremely happy to read & share about this kid's work.
'Amma's Helping Hands'

This book is my daughter's favorite.

It's the story about Aadhi, who wanted to help his mom during summer vacation. Loved the way author encouraging kids to help parents in household chores.

Aadhi watered all the trees and plants in his garden. With this story author has introduced kids to a lot of trees, plants and their benefits.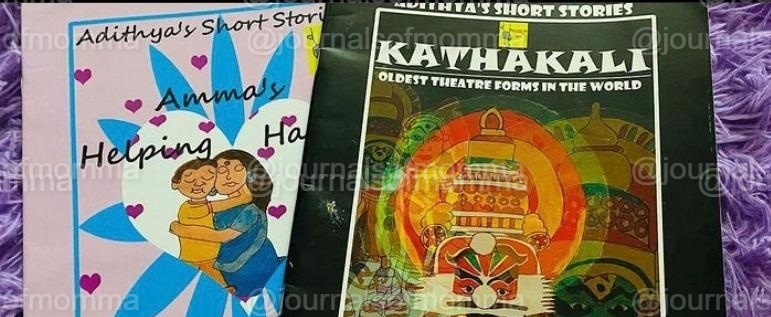 The writing and drawing talent in this little kid was identified by his parents & with their massive support all his writings and drawings are printed beautifully.
Kathakali – As the name suggested it's a non-fiction book explaining completely about Kathakali art form.

How an artist gets ready before stage play, how the stage play happens, they types of music instruments used. Author has shared details on different artists involved during Kathakali stage play.
The Navarasa – nine moods was brilliantly expressed by Adithya Iyer. We enjoyed reading both the books. For bookish play, we tried naming various trees, plants and its benefits.
Can be purchased by reaching out to Adithya's father via Instagram – @adithya_comicartist
Purchase details – drop msg via @adithya_comicartist , Adithya's parents are handling the account and they can help on purchase process.